EDITOR'S NOTE
NEW .. April 13, 2011:

Crime Stoppers Announces the Launch of the TipSubmit™
Now available for iPhone™ and Android™ applications

Los Angeles: CrimeReports, creator of the National Crime Map, today announced the launch of the TipSubmit™ Mobile application for Android™ and iPhone™. This application is the first mobile application that allows the public anonymously submit tips to law enforcement agencies including LAPD to help solve and prevent crime.

Users of this application may now submit secure and anonymous tips to Crime Stoppers programs, law enforcement agencies or school safety officers and administrators.

The new mobile application augments the existing TipSoft tools that allow the public to submit anonymous tips via phone, Web and Short Message Service (SMS) Text-a-tip. The application offers more powerful options than SMS Text-a-Tip, because it has the ability to use Global Positioning System (GPS) to auto-locate the nearest agency or to select an agency manually.

Community members now can attach images and video clips to tips. The application also makes it possible to establish an anonymous, ongoing, two-way dialogue and real-time chat with the receiving agency.

There is no cost to the public to use this application. To learn more or download the TipSoft application, visit Tipsoft.com or visit the Android™ Market or iTunes™ App Store.

Community members can also continuously contact Crimestoppers at 1-800-222-TIPS ( 800-222-8477 ) to report crimes anonymously. Tipsters may also contact Crimestoppers by texting to phone number 274637 (C-R-I-M-E-S on most keypads) with a cell phone.

For more information, contact LAPD Crime Stoppers coordinator at 213-484-6710 or LAPD Media Relations Section at 213-86-5910.
December 16, 2009 -- Los Angeles Community Policing welcomes the launch of the Los Angeles Regional Crime Stoppers organization, as yet another regional partner in the fight against crime.

I was delighted to have been personally introduced by my old friend and community policing partner Luisa Ashley, Mothers of Murdered Children, to some of her fellow 2009 Members of the Board, and to Executive Director Mark Speer, several months ago.

I'm happy to recommend this program, which has been proven around the country as one that can make a real difference in public safety by engaging community members in providing the essential TIPS that often provide the key element in solving a crime.

There are now more than 300 Crime Stopper programs worldwide. Please see the additional links we've provided above to find one near you.

Crime Stoppers encourages members of the community to assist local law enforcement agencies in the fight against crime by overcoming the two key elements that inhibit community involvement: fear and apathy.
Crime Stoppers provides a telephone number and Web Tips to encourage citizens in the community to volunteer vital information helpful to law enforcement agencies to fight against crime.
Callers can remain anonymous and are eligible to receive a cash reward if the information given leads to an arrest or criminal filing of a felony or misdemeanor offender.
Crime Stoppers relies on volunteer Directors and tax deductible contributions from the public in order to operate the administration of the program.

Mission Statement:

The purpose of Los Angeles Regional Crime Stoppers is to prevent and reduce crime, by forming a partnership among the community, law enforcement and the media to offer anonymity and cash rewards to anyone providing information leading to an arrest, thereby making the community a safer place for all who live or work in the region.

How It Works:

Crime Stoppers uses a three part approach to solving crimes. The first part of the program is to empower the community by providing a safe way to report criminal activity. Secondly, Crime Stoppers partners with all forms of media in the Los Angeles region to inform the community on how to anonymously report crimes. Law Enforcement is the final part of the triangle; they follow-up on tips from community members.

The Phone Call

Calls are received at a Call Center using a toll free number: 1-800-222-TIPS (8477). All phone lines are encrypted and no phone calls are ever recorded. Tips are then sent onto LA Crime Stoppers for further evaluation. By guaranteeing a caller's anonymity, Crime Stoppers allows the caller to provide information without fear of retaliation. By offering cash rewards for information that leads to an arrest or criminal filing, the program encourages othewise relunctant callers to provide information.


The Online WebTip
Tipsters now have the option of giving us tips online. The process is completely secure and anonymous and is a very effective and efficient means of safely communicating with us in today's world. Our WebTip process is powered by the world's leading online tip solution provider, Anderson Software.
The very unique integrated Two-Way Dialog capabilties allow the tipster to come back and provide additional information to their tip at any time, but also provides a secure means for the coordinator to ask questions or provide reward information back to the tipster through the same secure and encrypted interface.

Structure and Funding of Crime Stoppers

Crime Stoppers Programs are organized as a not for profit organization. A civilian community board of directors provides direction as to the financial and promotional activities of the program. The board of directors enhances the community involvement aspect, and its function is vital to the programs success.
The Crime Stoppers program is funded by private donations and annual fund raising events. NO TAX DOLLARS are involved . The reward money paid out by the program is from the fund raising and donations from concerned citizens and businesses.
A community board of directors, made up of persons from throughout the area, meets on a monthly basis to evaluate arrests and to decide on the size of rewards to be paid, up to $1,000. Reward tips are paid out based on the severity of the crimes. Tips are eligible for rewards up to $1,000, but, despite this, many callers choose not to collect their rewards.
Contact Crime Stoppers:

Calls are received at a call center when using our toll free number 1-800-222-TIPS (8477). All calls, texts or emails received are encrypted; no one can capture the caller's location, identification, or phone number. Once the Call Center receives information, they pass tips onto Crime Stoppers.
By guaranteeing a caller`s anonymity, through online, phone and text tips, Crime Stoppers allows the caller to give information in a positive atmosphere without the prospect of retribution. By offering cash rewards for information leading to indictment or arrests, the program encourages otherwise reluctant callers to provide information.
Individuals looking to volunteer their time to LA Crime Stoppers can contact us via email at volunteer@lacrimestoppers.org .
Please send your questions or comments via email to info@lacrimestoppers.org or via mail to:
Los Angeles Crime Stoppers
P.O. Box 1000
Agoura Hills, CA 91376
Does Crime Stoppers Work?

The answer is quite simply yes. Since the start of Crime Stoppers, there have been over 850,000 arrests, resulting in over 1.2 million cases cleared. These arrests have resulted in over $1.9 billion in stolen property recovered and over $7 billion in drugs seized.
.
History:




When a young college student, Michael Carmen, was shot to death during a robbery at an Albuquerque, New Mexico gas station in July 1976, Detective Greg MacAleese had no idea who was responsible for the killing.

No witnesses came forward and it appeared the senseless and brutal shotgun slaying would remain a mystery.

MacAleese, who worked for a newspaper before joining the Albuquerque Police Department, knew something innovative would be necessary to encourage the public to get involved and help solve the murder.

He conceived the idea of producing a video re-enactment of the homicide, guaranteed anonymity for anyone who was willing to call him with information and put up a reward from his own pocket to encourage someone to provide a lead that would help identify those responsible for the murder of Carmen.

It seemed almost unnecessary to take such extraordinary steps to solve the killing of Carmen. It was a case that should have outraged the community and brought forth many witnesses.

Carmen was only two weeks away from getting married and had taken an extra shift at the gas station to give a co-worker the night off. When police responded to an emergency call they found Carmen gravely wounded. He had been shot in the abdomen at point blank range with a 12-gauge shotgun.

The medical staff kept him alive for four hours and during that time he tried to tell detectives who was responsible, but he just didn't have the strength to form the words.

At that time Albuquerque had one of the highest per capita crime rates in the country and people were afraid to help the police.

MacAleese plan to identify those responsible for killing Carmen worked. Within a few hours after the recreation of the murder was broadcast on television station KOAT, he received a phone call. The video image had triggered the memory of a person who heard a loud bang in the vicinity of the gas bar and then saw a car driving off. The caller told MacAleese the vehicle belonged to a resident in a nearby apartment complex.

Through investigation MacAleese and a team of detectives arrested two men within 72 hours and charged them with the murder of Carmen and a string of armed robberies.

MacAleese received other calls following the reenactment, including one that allowed police to solve the rape of a young woman. Realizing that this type of program might be useful in fighting crime, MacAleese convinced the Albuquerque Police Department to allow a group of citizens to establish the first Crime Stoppers program.

For his efforts Detective MacAleese was named one of the people in the 1970's who changed the face of the United States and was also named the country's Police officer of the Year. It's also interesting to note that since adopting Crime Stoppers Albuquerque's crime rate has dropped significantly and no longer is ranked in the list of 20 cities with the highest per capita crime rate

~~~~~~~~~~~~~~~~~~~~~~~~~~~~~~~~~~~~~~~~~~

LA Community Policing is delighted to have an active Regional Crime Stopper program in the LA County area.

Here's the announcement that appeared in "The Signal" newspaper (Santa Clarita Valley):


.





'Crime Stoppers' tips program launched in L.A. County



Source: Supervisor Michael D. Antonovich
Los Angeles County Board of Supervisors, Fifth District

December 16, 2009

Los Angeles County Supervisor Michael D. Antonovich joined Sheriff Lee Baca, LAPD Chief Charlie Beck and police chiefs from more than 20 cities to launch a new public-private partnership that will offer rewards to anonymous tipsters who provide information leading to the apprehension and prosecution of criminals.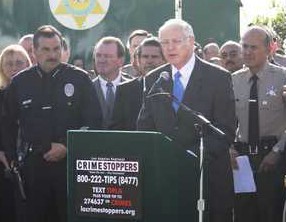 Supervisor Michael D. Antonovich, LAPD Chief Charlie Beck
and Sheriff Lee Baca launch "Crime Stoppers"
Anyone with information on an unsolved crime is encouraged to contact Crime Stoppers by:


Calling 800-222-TIPS (8477)



Texting the letters TIPLA plus the tip to 274637 or CRIMES



Visiting the Web site online at lacrimestoppers.org


The Crimestoppers program was started in 1976 by a young detective in Albuquerque, N.M., who was frustrated by the number of unsolved cases in his jurisdiction. The detective reached out to the community, media and law enforcement agencies for help.

This new partnership helped the young detective solve a murder he was investigating within 72 hours.

Since its inception, this program has led to:



More than 500,000 arrests



One million crimes solved



$4 billion in drugs and drug money seized


There are now more than 300 Crime Stopper programs worldwide.