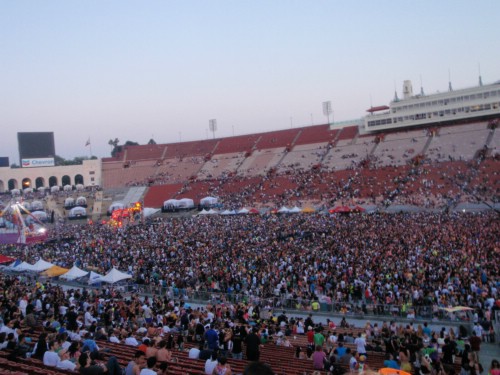 The LA Coliseum has been the scene of recent raves
Raves to continue in Los Angeles but with safety guidelines
10 new rules will now apply

Beverly Hills Courier

December 8, 2010


The Los Angeles County Board of Supervisors today approved 10 safety guidelines meant to make electronic music festivals, or raves, safer.

The guidelines are just that -- not law -- and the board plans to send letters to promoters, sponsors and venue operators, urging them to adopt the measures.

The commission that controls the Los Angeles Memorial Coliseum and the adjacent Sports Arena agreed last week to abide by the recommendations.
The guidelines, developed by a task force of public health and safety officials working with police and promoters, include:

-- requiring rave-goers to be at least 18;

-- giving wristbands to anyone 21 or older, so that concession workers can tell who is old enough to drink alcohol;

-- instituting "cool-off" breaks during the show;

-- closing all raves by 2 a.m.;

-- briefing event staffers about drug overdose symptoms and heat exhaustion;

-- requiring that medical personnel be on site in case of an emergency; and

-- offering warnings about Ecstasy and other drugs during public service announcements and in materials handed out during the festival.

The Coliseum had enacted a moratorium on raves when 15-year-old Sasha Rodriguez overdosed on Ecstasy after attending the Electric Daisy Carnival at the arena. The commission lifted the moratorium on Nov. 3.

Last week, commission member and county Supervisor Zev Yaroslavsky asked that raves be allowed to continue only if organizers' security and operational plans pass muster with the commission. That move, supported by unanimous vote, requires that organizers submit detailed plans for approval at least two months before the event.

"I think that we need to distinguish between the musical genre and the behavior it attracts,' Yaroslavsky said today. He pointed out that an electronic music event had been held at the Hollywood Bowl and there was "not one incident. Nada.'

The board's action today will move to extend the voluntary safety precautions to all raves in the county, whether public or private.

"The most important thing we can do is protect the young people who attend, by enforcing the laws governing these events,' said Supervisor Don Knabe who, together with Yaroslavsky, originally called for the task force to come up with safety measures. "As the recommendations are implemented, we will continue to monitor the situation in conjunction with law enforcement and festival operators.'

The next rave at the Coliseum is scheduled for New Year's Eve.